About R.F. Moeller
The Moeller family and R.F. Moeller Jeweler team have helped the Twin Cities celebrate life's milestones since 1951.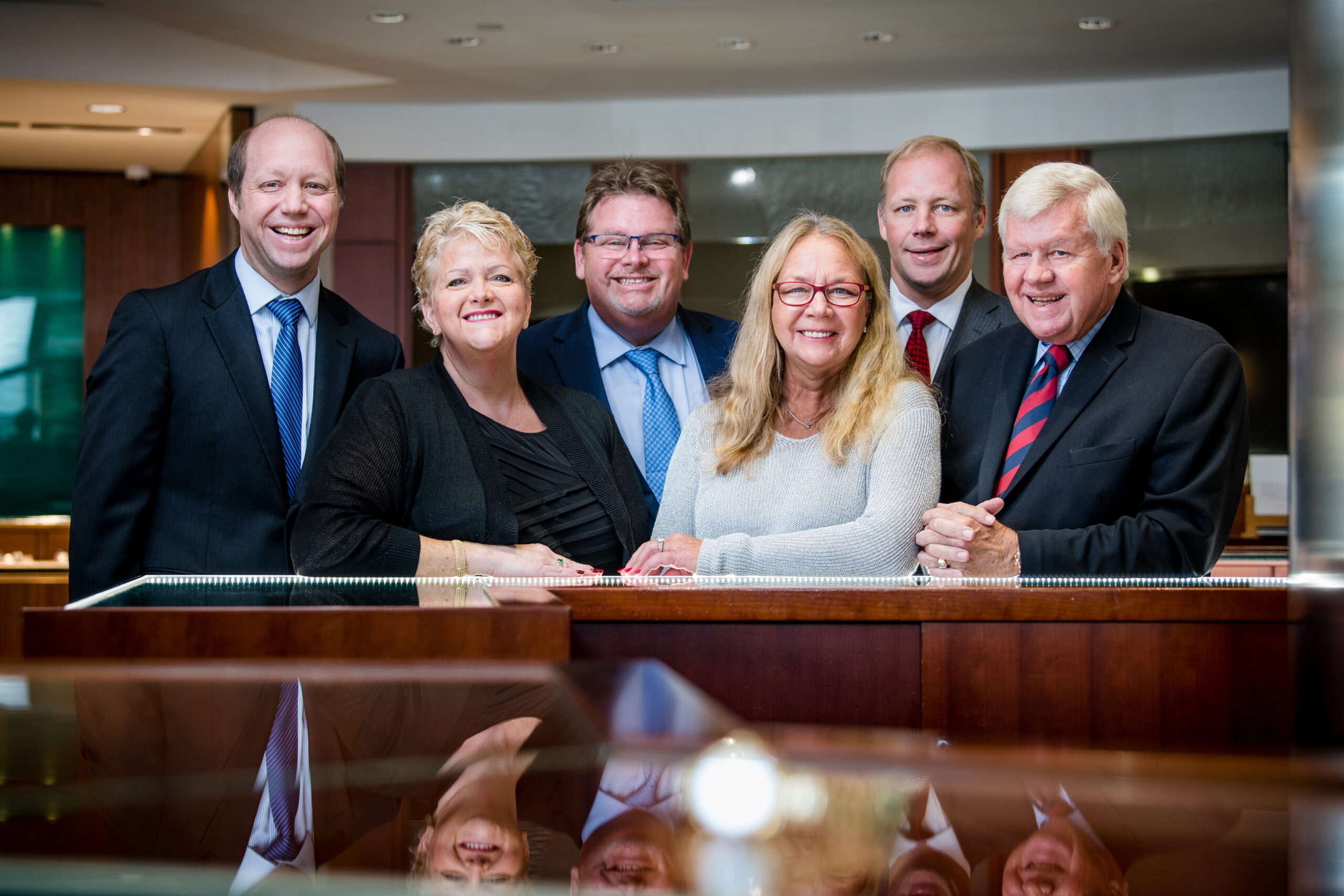 Welcome to R.F. Moeller Jeweler. We're happy you're here!
We're proud to be a third generation, family owned and operated jeweler serving the Twin Cities since 1951.
Our family and team are committed to going above and beyond to do what's right for our clients. Visit us in Edina and Saint Paul to experience exceptional experience, quality, and service.
We're delighted to offer a carefully curated selection of engagement rings, fine jewelry, diamonds, and watches from the finest names in Swiss watchmaking. And, our in-house metal smiths, watchmakers, and appraisers are here to ensure your jewelry will last for generations.
Read our team's bios and you'll notice a common theme: we feel fortunate to work in a joyful industry and are honored that we get to help people celebrate life's milestones! 
Discover the R.F. Moeller Jeweler difference by stopping into one of our Twin Cities locations today.
We look forward to serving you soon!
Serving the Twin Cities since 1951.
Over 70 years of serving the Twin Cities. From a small jewelry shop in Saint Paul's Highland Park neighborhood to two bustling locations across the Twin Cities metro, R.F. Moeller Jeweler has seen some changes throughout our time in business. One thing that hasn't changed over the years is our dedication to providing the best service and finest jewelry to our valued customers. Take a glimpse at some key moments in R.F. Moeller's storied history below.
1951

1951

1968

1988

1989

1991

1994

1996

2001

2002

2006

2006

2006

2012

2014

2016
1951

The Origins of R.F. Moeller: Robert Moeller

1951

Highland Park

1968

Ford Parkway

1988

Mark Moeller became the first Certified Gemologist Appraiser in Minnesota.

1989

Mark Moeller was named President of R.F. Moeller Jeweler.

1991

1991 Mark Moeller bought the business from Robert and Bernice Moeller.

1994

Acquisition of Korst and Sons

1996

Edina Store Remodel

2001

50th Anniversary

2002

Minneapolis Location Opens

2006

50th & France Moved

2006

Mark Moeller receives the Shipley Award

2006

Bob Moeller becomes President of R.F. Moeller

2012

Gaviidae Common Moves

2014

R.F. Moeller Wins Deubener Award

2016

Leadership Transition
We believe in celebrating milestones.
Life is full of milestones worth celebrating. From engagements to anniversaries, graduations to retirements, and all of the birthdays in between, there is so much to celebrate. Our family and team are honored to be part of celebrating your milestones.
Award Winning Service & Quality
2023 | Best of Weddings

The Knot

2022 | The 20 Best Independent Jewelry Shops in the U.S.

VERANDA

2020 | Best of Weddings

The Knot

2018 | Minnesota Family Business Award

Twin Cities Business

2016 | Best Jewelry Store

Best of Saint Paul

2016 | Best Jewelry Store

Best of Edina

2015 | Best Jewelry Store

Best of Edina

2014 | The Deubener Award

St. Paul Area Chamber of Commerce

2014 | Best Jeweler

Best of Edina

2010 | America's Best Jeweler

2008 | Business of the Year

Highland Business Association

1999 | National Jeweler Retailer of the Year