Moeller Milestone: Patrick & Tommy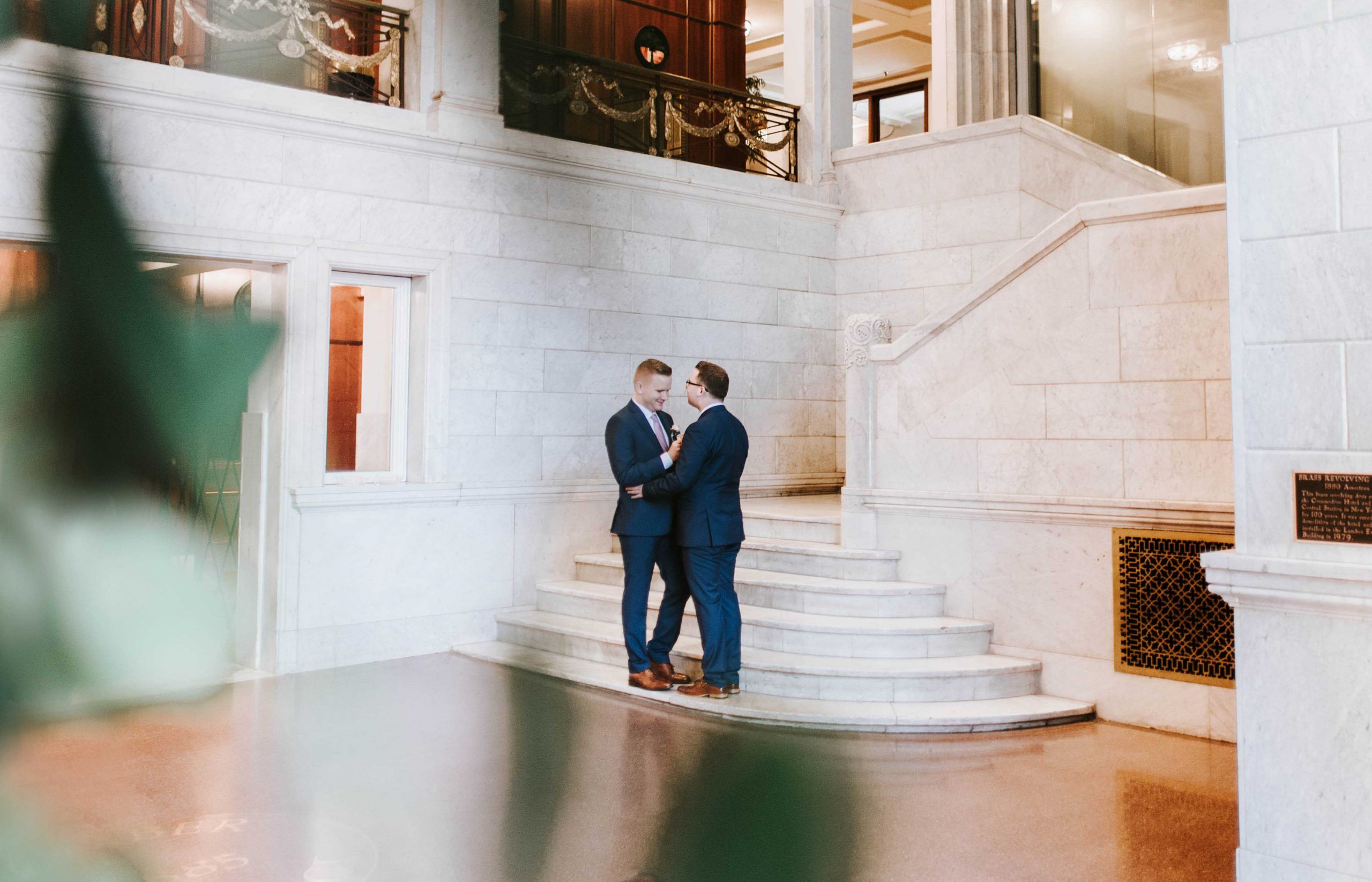 Their Dating Story:
Patrick and Tommy met in the Fall of 2011 in Madison, Wisconsin. Tommy was visiting his high school friend Laura, who Patrick happened to be living with that semester his junior year before he went abroad. At the time Tommy had just started his freshman year at the University of Minnesota.
After that Halloween weekend we stayed in touch during the entire spring and summer that Patrick was in Vienna, and started officially dating long-distance when he got back in August of 2012.
Patrick moved home the next year after college and over the next couple years we moved in together, brought two dogs home, and got a joint cell phone plan. The only thing left to do was to get married!
Their Proposals:
After six and half years, both Tommy and Patrick decided it was about time to think about a future wedding. Patrick was just finishing up his graduate work at St. Catherine University.
Tommy planned a Grand Marais trip in May with our friends Aly, Chris, Zoe and Jordan with the guise of it being a trip to celebrate Patrick's graduation, but knowing he was going to propose. In February, he went with Aly to her family's jewelry store, R.F. Moeller. However, at the same time Patrick also called Aly to go to the store with him to pick out a ring for Tommy – he planned on using the trip as an opportunity to propose, too. Patrick ended up going to the store a week after Tommy and nearly bought the same ring that Tommy had already gotten. Thankfully Aly was able to steer him a different direction. As an aside, we wouldn't recommend anywhere else but R.F. Moeller-obviously we already knew that the Moeller Family are all wonderful and very welcoming, but the entire R.F. Moeller team was very professional and didn't let on about our plans to ask each other.
Thankfully, neither of us found the other person's hiding place and none of the many family members and friends that we both told about the proposals ruined either of our secrets. Though we have to give everyone credit because Tommy especially was hounding our friends on whether any of them knew if Patrick was planning anything.
In May, we left to go up to Grand Marais a day ahead of our friends so that we could enjoy each others' company. That morning we decided to go on a hike through Judge C.R. Magney State Park to Devil's Kettle waterfall. We were essentially alone on the trails and by the time we got to the waterfall Thomas dropped to a knee and asked the question.
The next day the entire group was together and we went to Grand Portage State Park and the High Falls of the Pigeon River. Once at the Falls, it was Patrick's turn to ask Tommy. This time we were able to share our experience with friends, and Zoe was even able to capture the moment on her camera.
We both feel it was fate that we planned to ask each other to get married on the same weekend. And we're thankful that we were able to have TWO proposals that weekend, one intimately between the two of us, and another which we could share with friends.
Congratulations Patrick & Tommy!
The Rings:
Patrick's: White Gold Band with Diamond and Milgrain Accents
Tommy's: White Gold Band with Alternating Black and White Diamonds