Appraisals
From rings and necklaces, to diamonds and watches, our expert appraiser is ready to evaluate any jewelry you may have.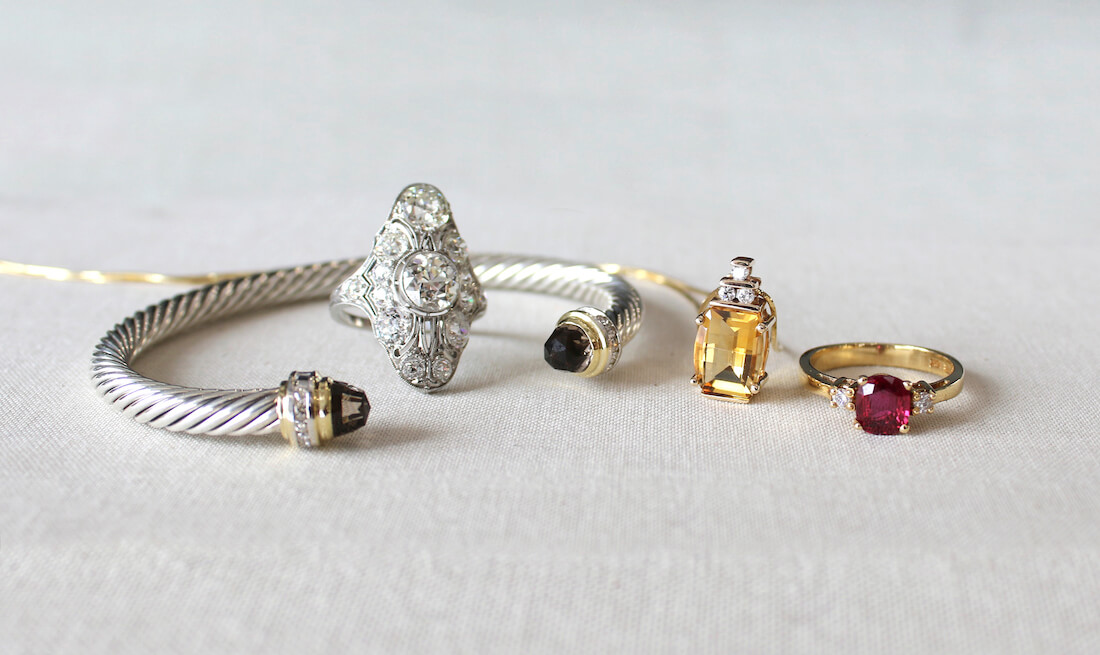 Jewelry & Watch Appraisals by R.F. Moeller Jeweler
Our jewelry appraisal team can evaluate your pieces with our extensive education and keen insight. 
R.F. Moeller confidently offers: 
Engagement ring appraisals  

Watch appraisals 

Jewelry appraisals
Whether you're looking for an insurance replacement appraisal or any other purpose, R.F. Moeller's in-house appraiser will provide you with an accurate jewelry appraisal.

All of our jewelry appraisals are performed by a Certified Gemologist Appraiser — the most highly regarded title in the jewelry industry. 
In addition to this prestigious level of education, our appraiser utilizes a fully accredited gem laboratory to provide you with the most accurate evaluation of your jewelry.
Once the jewelry appraisal is complete, you'll receive a document outlining our findings. We'll answer any and all questions you have about the appraisal so you can leave feeling confident and knowledgeable.
Meet the R.F. Moeller Appraiser
Mike West

Certified Gemologist Appraiser

Read More
Jewelry Appraisal FAQs
What is a jewelry appraisal?
A jewelry appraisal is a written document produced by an accredited professional that outlines features of the piece of jewelry and provides a price valuation. During the appraisal, the jewelry quality is analyzed using approved standards and a detailed written evaluation of the piece including its estimated value is provided.
Is there more than one kind of jewelry appraisal?
Yes! A jewelry insurance appraisal is based on replacing a current piece with a comparable new item.
A fair market appraisal provides a value that an informed and willing seller can expect to obtain from an informed and willing buyer, provided time is not of the essence.
How much will it cost?
Jewelry appraisals start at $150 for a single item.
Each additional item of jewelry costs $125.
Watch authentication and appraisals start at $200 for a single item.
Appraisals by appointment start at $175 for the first item.
The cost of appraising more complex items is by estimate. Hourly pricing is also available for large estates or when many different items are involved. Please call us to receive an estimate for your appraisal.
Do I need an appraisal?
We strongly recommend appraisals on important jewelry pieces. If the time comes when you need to make an insurance claim, you'll be glad to have a jewelry insurance appraisal. A thorough appraisal is your only assurance that you'll be able to replace the lost, stolen, or damaged items with a comparable piece.
What can be appraised?
R.F. Moeller's appraisers have appraised a wide array of items*. We most commonly  offer:
Engagement ring appraisals
Jewelry appraisals
Loose gemstone appraisals
Watch appraisals
Silverware appraisals
How long will an appraisal take?
At R.F. Moeller, our appraisals of up to three items will take around seven days to complete.
More extensive jewelry collections or larger estates will take longer. When you bring your pieces in, our sales associates will give you an expected date of completion.
Do both R.F. Moeller locations handle appraisals?
Yes! We proudly offer appraisal services at both our Edina and Saint Paul locations. Please note: appointments with our appraisers are available exclusively in our Saint Paul store.
Will you consider purchasing an appraised item?
Due to a conflict of interest, we can either complete an appraisal or make an offer to buy. We are unable to do both.
Did you know?
The FBI, the Minnesota Bureau of Criminal Apprehension, & the US Customs Office have sought out the expertise of our jewelry appraisers.
Contact Our Appraiser
Have a question for our appraiser or looking to set up an appointment? Fill out the form below! Please note: Appraiser appointments are available exclusively in our Saint Paul store.