What's Old is New Again: A Primer on Vintage & Estate Jewelry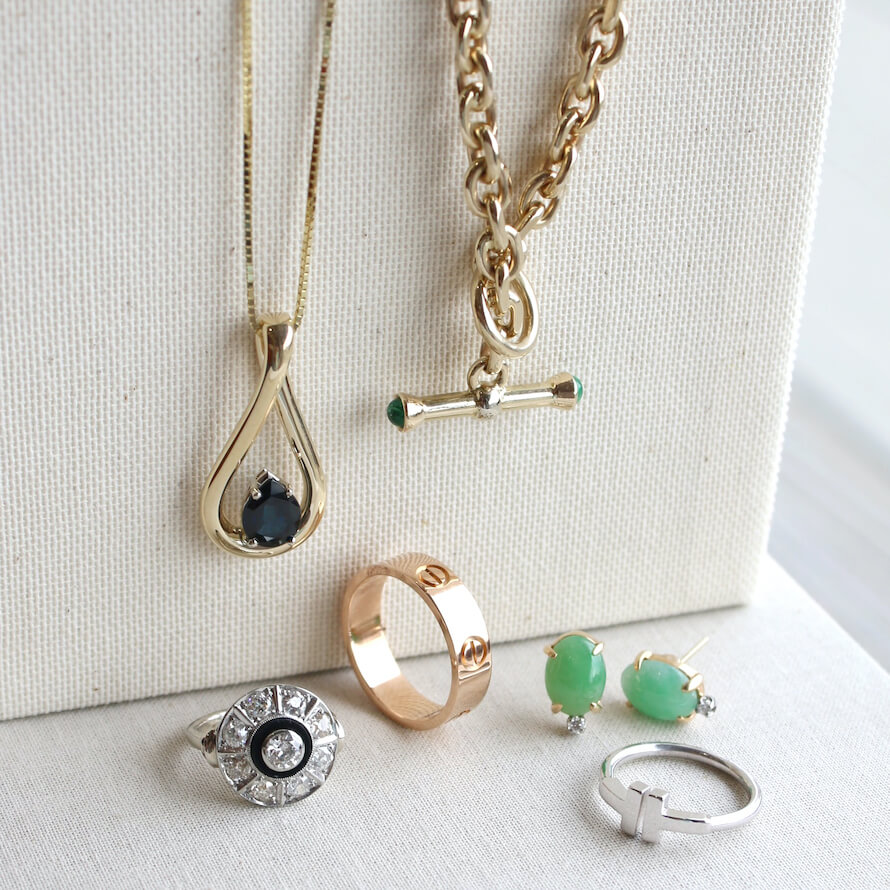 Previously owned jewelry is a joy to own on so many levels. It can round out your collection with styles that are no longer being made. It can add some vintage flair to your wardrobe or infuse it with modern pieces that need a new home. You might even be looking for that special item to serve as the "something old" in your bridal ensemble.
Many estate finds are unique, with elements such as old mine cut diamonds, romantic filigree designs, and period style characteristics that make them stand apart from more modern pieces. Some are signed pieces from elite jewelry houses like Cartier and Van Cleef & Arpels, and others are simply fine examples of jewelry from various eras by unknown makers. There are distinctions to be made between estate, antique, and vintage, as well as demarcations between periods, including Art Deco, Art Nouveau, and Retro.
ESTATE simply means the jewelry has had a previous owner. Pre-owned jewelry could be from any era; it could be antique or close to brand-new. The word estate has its origins from a time when pre-owned jewelry was part of an estate, implying the previous owner is deceased. Now it simply means pre-owned.
ANTIQUE jewelry refers to pieces that are over 100 years old. Some antique jewelry is made to extremely high standards, crafted at a time when generally only the very wealthy could buy jewelry. Other pieces are quite delicate and in need of restoration if they are to be worn safely.
When jewelry is between 50 and 100 years old, it is classified as VINTAGE. For example, jewelry from the '60s and early '70s is now considered vintage.
The world of estate jewelry is vast and varied and full of pleasant surprises. It is full of possibilities for great ways to boost your jewelry wardrobe.
Art Deco
ART DECO remains the most enduring design period in estate jewelry, a market favorite for its timeless qualities. It is recognized for its mix of bold colors, geometric forms, and diverse materials. Diamonds were very popular in the period, often combined with rubies, sapphires, and emeralds. The use of black onyx contrasted with white diamonds and rock crystal is another defining characteristic. Cartier, Tiffany, and Van Cleef & Arpels are considered to have created some of their most iconic work during the Art Deco period.
Art Nouveau & Retro
ART NOUVEAU is more decorative. It is all about flowing curves, often with floral, leaf, and scrolling vine motifs. Other common motifs include dragonflies, peacocks, snakes, and the female silhouette. Rene Lalique and Louis Comfort Tiffany were major designers of Art Nouveau jewelry.
Art Nouveau flourished between 1880 and 1914, which qualifies much of it as antique, whereas Art Deco emerged later, in 1920, lasting until about 1940. An overlapping style, RETRO jewelry refers to pieces created in the late 1930s and 1940s that are a little more futuristic looking than traditional Art Deco. Makers experimented with different gold alloys and combined both Art Deco and Art Nouveau motifs.
Shop Vintage & Estate Jewelry
Browse a selection of our curated vintage & estate collection online, then visit us in store to experience the entire collection.