June Birthstone Spotlight: Pearl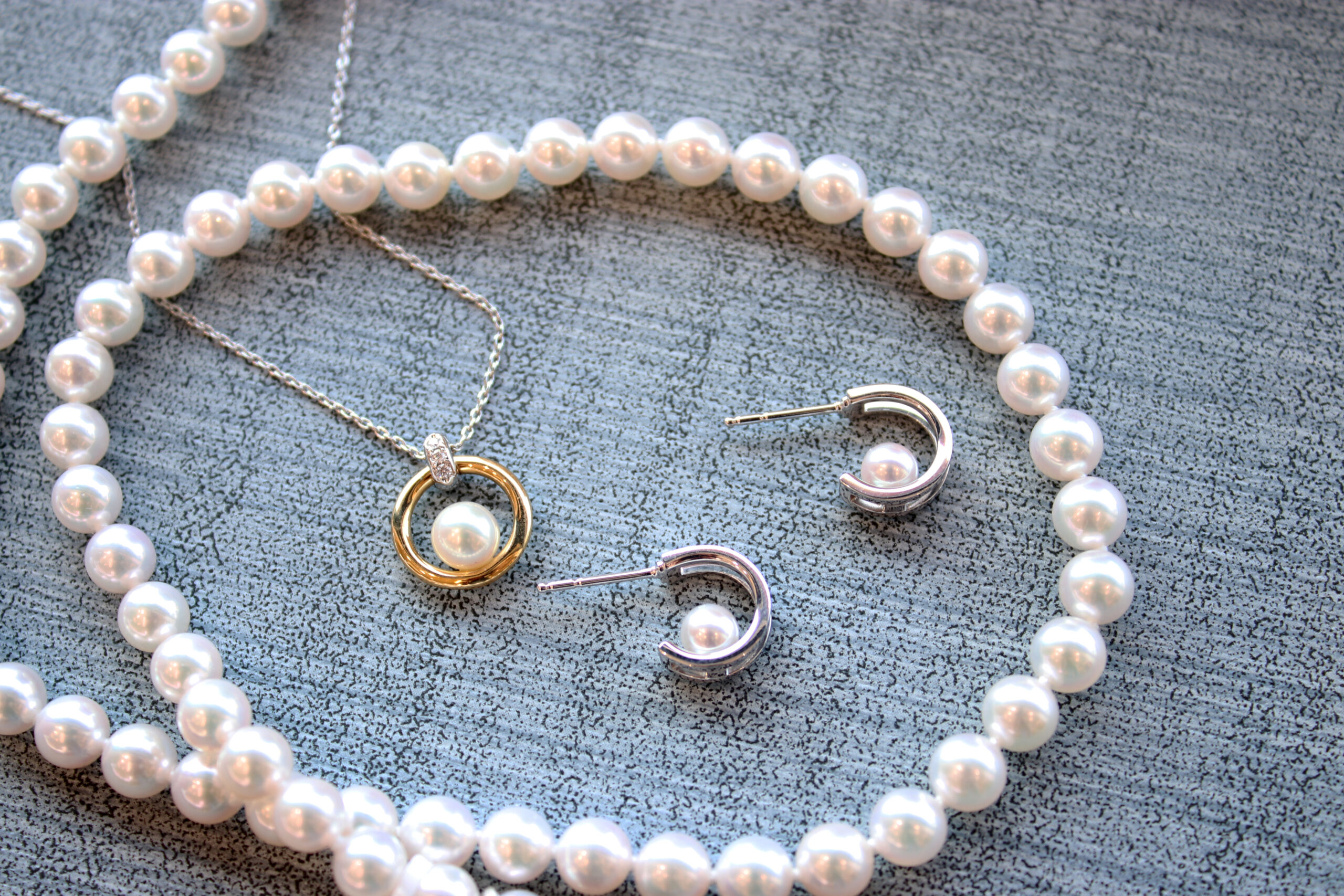 June's three birthstones are pearl, Alexandrite, and moonstone. However, pearl is the most recognized. Keep reading to find out more information about this gemstone and to shop pearl jewelry you can find here at R.F. Moeller Jeweler.
Diamond and Pearl Cradle Earrings | $2,350

This pair of pearl and diamond cradle earrings by Mikimoto is crafted from 18k yellow gold and features 5.5mm Akoya pearls and 0.02 total carats of diamonds.

Golden South Sea Pearl Pendant | $5,900

This 11mm golden south sea pearl pendant by Mikimoto features 0.02 total carats of diamonds and a 31.5″ adjustable chain crafted from 18k yellow gold.

Bubbles Pearl Ring | $1,650

This Bubbles Ring from Mikimoto features three Akoya cultured pearls and diamonds clustered together and set in 18k white gold.
Pearl Background
There are four main types of pearl: freshwater, Akoya, Tahitian, and South Sea. Freshwater pearls are the most common and affordable, Akoya pearls are made in Japanese and Chinese waters, Tahitian pearls can be grey, blue, green, and purple, and South Sea pearls are the largest kind of pearl and feature white, cream, and golden hues.
History
This June birthstone has a rich history, dating as far back as 2300BC, where this gemstone was gifted to Chinese royalty. In ancient Rome, pearls were considered the ultimate status symbol. Julius Caesar even passed a law limiting pearls to be worn only by the ruling classes. During the Dark Ages, knights wore pearls during battle, believing that the gemstone would keep them safe. There is ancient lore that Cleopatra used a pearl to prove to Roman politician Mark Antony that she could host the most expensive dinner party. To prove her pearl was real, she put her pearl in a glass of vinegar, which evaporated it.