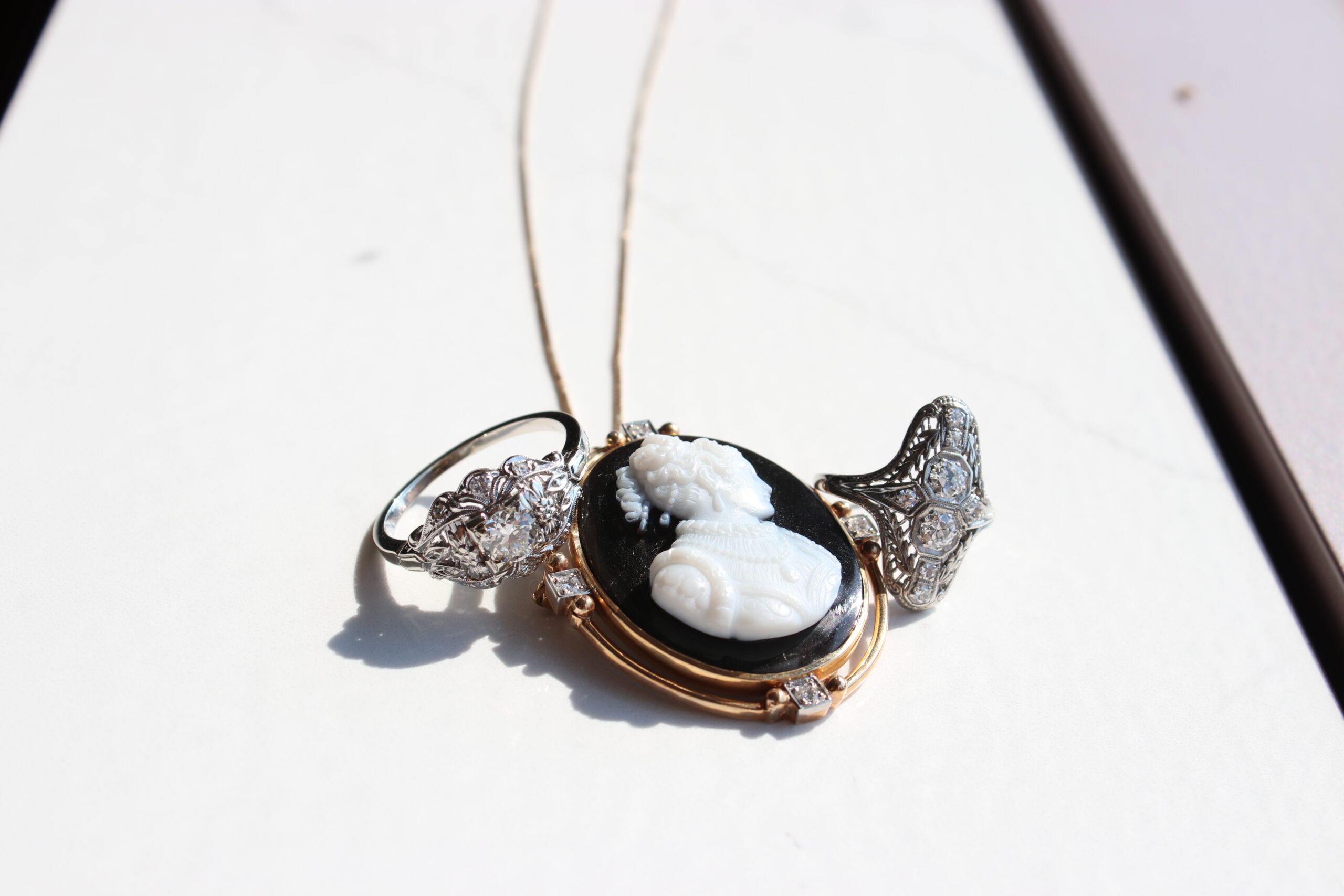 Did you know that you don't have to let the old ring that grandma gave you sit and collect dust at home? It's always possible for old jewelry to feel new again. Heirlooms are so important and special to various family members, but sometimes the piece isn't the right size, style, or your preferred type of jewelry.
Heirlooms
Heirlooms are items of jewelry that you inherit usually from a family member or close friend, which you then pass onto the next generation in your family. Heirlooms can have monetary or sentimental in value, however they are usually both. The price of heirloom jewelry can vary greatly. Some pieces can be worth thousands of dollars and others can be worth very little, if anything at all. Some pieces are not monetary in value, but are priceless because of the precious memories attached. The purpose of heirloom jewelry is to preserve the memory of the loved one who the jewelry originally belonged to, and to have their memory live on through generations.
It is typical for younger generations to receive smaller pieces for special occasions, such as a birthday (sweet 16, 18, 21), communions, and graduations. Bigger pieces tend to be given to adults for big events and major life milestones such as an engagement or marriage, birth of a baby, career achievement, special anniversary, or big round number birthdays (30, 50, etc.).
Heirloom pieces will usually be designed to be in the style that was popular during that time. Therefore, some pieces might not be "in style" anymore because the piece has been passed down from generation to generation. This kind of jewelry may be a bit dated, so it is not uncommon for people to want to repurpose their heirloom jewelry. A lot of these unique pieces are never worn and get shoved to the back of a safe or a jewelry box. Some people may feel guilty about altering or modifying their family jewelry. It can be helpful to remember that it is still your special piece, just adjusted to your current style. It's possible to maintain the integrity of the piece while transforming it into something that you'll wear every day.
R.F. Moeller Customer Example
We recently worked with a woman to transform her grandma's bar pin into a magnificent ring that she can wear every day.
It is always possible for old jewelry to feel new again. Some examples of repurposing jewelry are creating a ring out of an old pin or brooch or creating a necklace from a ring. Other popular examples include the resizing of a ring or bracelet, using accent stones in a new jewelry design, or creating multiple, updated pieces for themselves or several family members. We recently worked with a woman to transform her grandma's bar pin into a magnificent ring that she can wear every day.
If you decide you want to repurpose an old piece of jewelry, there are some things you should keep in mind. For example, which types of jewelry do you prefer wearing? You should be comfortable wearing your new piece of jewelry and choose a kind that suits you the best. For example, if you fidget or play with your hands often, a ring or bracelet might not be the right fit and you may want to consider a necklace. Another thing you should have in mind is the condition of the gemstones. Gemstones are often the most important part of a piece of jewelry. Our expert artisans will be able to inspect them carefully and let you know if the gemstones are able to be used. If they are badly damaged (i.e. a chip in a gemstone that cannot be polished or recut), you may want to reconsider repurposing that piece.
It is not recommended to repurpose any costume jewelry, like Chanel or Versace pieces. Costume pieces are often gold plated (meaning they are made of a metal that is covered in a thin layer of gold) that can easily be damaged by polishing or steam cleaning. In addition, accenting elements like cut glass or enamel may be glued in place instead of set like precious gemstones in gold or platinum.
It is possible with the process of custom jewelry design to turn something old into something new. The key is to rework the original piece to fit the new owner's lifestyle and taste. Your new piece allows you to honor the past and the memories that go along with it while also living in the present.