Everything You Need To Know About Nouveau Jewelry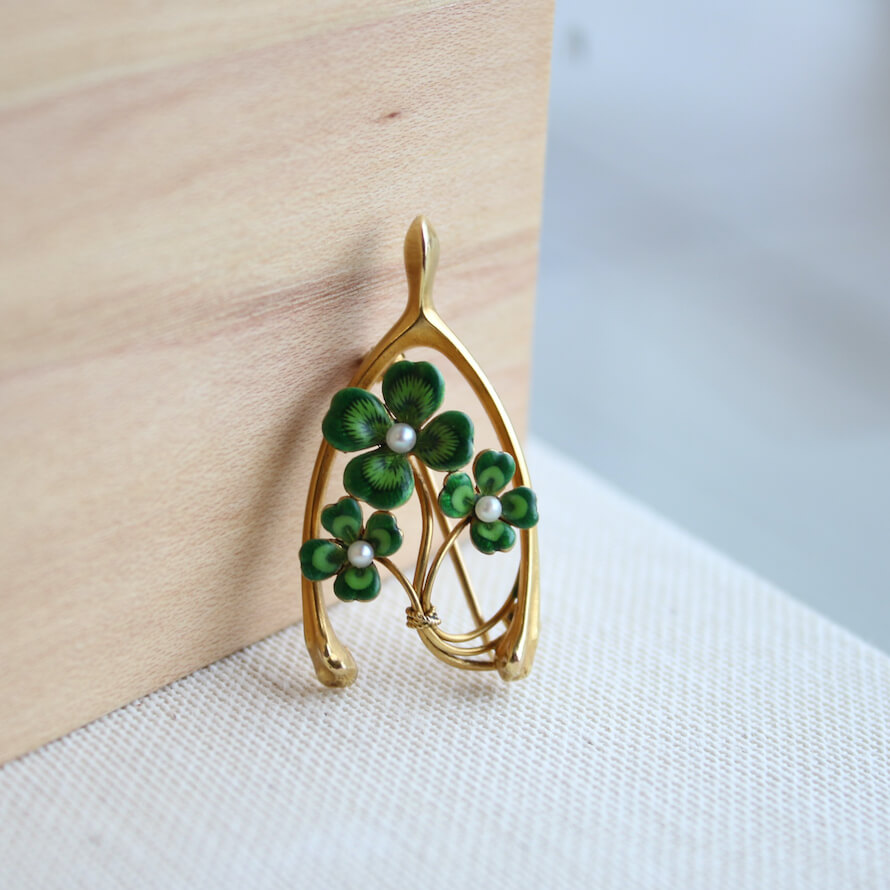 Art Nouveau (1890-1915)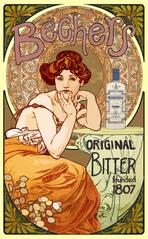 The Art Nouveau style is one of the most memorable and recognizable. Even if you don't know the name of the style or the artists, you are probably familiar with the look from artworks of the time or even with specific pieces. Its name is French for "New Art," and even now, a century or so later, it still seems quite modern-looking.
As the name suggests, Art Nouveau grew up in Europe (in Germany Austria it was called Jugendstil) but overlapped with and was influenced by the Edwardian period in England and was popular in the United States. As with Edwardian style, it was a reaction to conservative, somberness of Victorian era; as well as the mass production that was taking place in consumer goods and increased contact with Asia. The main characteristic that makes Art Nouveau so recognizable is its use of sinuous, curving lines in a naturalistic but dreamlike way.
The changes brought about during World War I brought this peaceful reverie of a style to an end.
Focus on Craftsmanship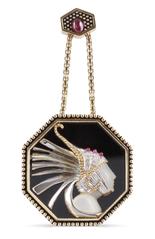 Much the way microbrews, artisanal cheeses, and hand-knit coffee sleeves are today's answer to the mass-produced consumer goods available to us, the Art Nouveau style was a reaction against the industrialization happening around the turn of the twentieth century. Art Nouveau jewelry often showcases a variety of handcrafting techniques developed or refined at the time, such as multiple styles of enamelwork. Several recognizable names emerged from the period: Rene Lalique, Louis Comfort Tiffany, and Karl Faberge, to name a few. Their high-end workshops incorporated unique materials such as Baroque pearls. Unsurprisingly, though, jewelry producers found ways to incorporate the Art Nouveau visual style into mass-produced pieces, such as buttons, brooches, charms, cuff links, and stick pins.
Nature, Myth, and Fantasy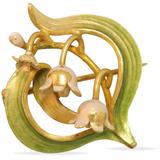 The organic curves in Art Nouveau lent themselves to depicting living creatures and natural objects, which are common motifs, influenced in part by the art of China and Japan. You'll see insects, stylized plants and flowers, landscapes, and mythical creatures such as dragons depicted with sensuous suggestions of movement. While a variety of colors were employed, pastel palettes added to the dreamy quality of the imagery. The gems used – ethereal moonstone, ever-changing opal – enhanced this look as well, while materials such as horn, amber, and pearl brought in organic elements.
"Cult of the Female Figure"
In the previous era, women could show almost no skin aside from their faces, and bare skin in Victorian art had been equally rare. But as Art Nouveau flourished, women were allowed – and demanded – more personal freedom, and this new attitude is reflected in the artwork. Art Nouveau celebrated the curves of the female body, often showing nude mythological women with long, flowing, wavy hair worthy of a Pantene commercial.