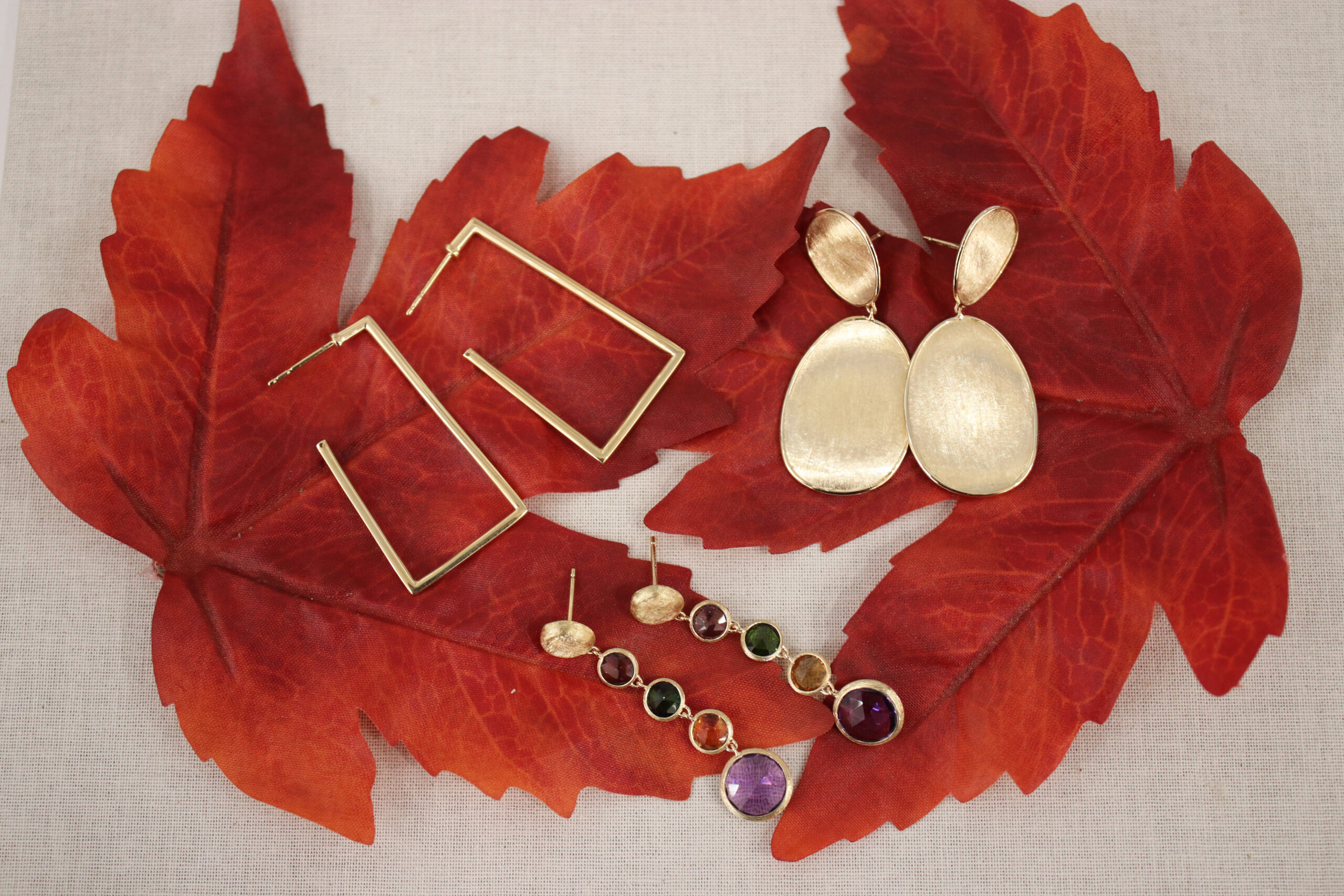 Fall is finally here, which means fall fashion and jewelry are on full display! Keep reading to shop the latest fall trends at R.F. Moeller Jeweler.
Fall Jewelry
Layering clothes is a common practice during fall, but have you ever considered layering necklaces too? Start by wearing a choker and then add necklaces of varying lengths to create a stylish layered look. When it comes to fall, colors such as red, orange, and brown are often associated with the season. Therefore, jewelry with gemstones in these colors would be a perfect choice. The trend of quiet luxury has recently gained popularity. You can easily follow this trend by wearing delicate and elegant jewelry. For the fall season, statement earrings are a trendy accessory. Add some personality to your outfit with chunky hoops or delicate dangle earrings.
Shop the Layered Look:
Layered necklaces are a fun and fashionable way to add some extra flair to your outfit. There are countless ways to mix and match different lengths and styles of necklaces to create a unique look that is all your own. Whether you prefer delicate chains or chunky statement pieces, there is a layered necklace combination out there for everyone. Paperclip necklaces are perfect for layering, and you can add some texture to your look with layered necklaces in one, such as our Asli Classic Chain Link Multi Row Necklace from John Hardy.
Shop Fall-Colored Gemstones:
Fall is a season of warmth and vibrancy, with leaves turning brilliant shades of red, gold, and orange. What better way to complement the beauty of this season than with fall-colored gemstone jewelry? From the deep red hues of garnets and rubies to the golden tones of topaz and citrine, fall gemstone jewelry is a perfect way to add a touch of elegance to any outfit. So why not embrace the spirit of the season and treat yourself to a stunning piece of fall-colored gemstone jewelry? Not only will it elevate your style, but it will also serve as a beautiful reminder of this magical time of year.
Shop Quiet Luxury:
Quiet luxury is the perfect blend of modern sophistication and timeless charm. These stunning pieces give off the perfect effortlessly chic look. Quiet luxury jewelry is perfect for those who appreciate the finer things in life but don't feel the need to shout it from the rooftops. These pieces are perfect for everyday wear, adding a touch of elegance to any outfit without overwhelming it.
Shop Statement Earrings:
Statement earrings are sure to elevate your fall look. Whether you're dressing up for a special occasion or just want to add some interest to your everyday look, statement earrings are a versatile accessory that can be worn with almost anything.