Custom Design Process
The custom jewelry design studio at R.F. Moeller is revered by industry members and customers all over the country for their excellent and professional work.

Follow along as we create a custom ring.
Whether you want to create a unique engagement ring with a personal touch or transform a family heirloom into a fresh new piece of jewelry, know that our custom designers are the absolute best in this region of the country. If you can imagine it, they will create it.
We recently finished an exciting custom ring design for our valued customer Molly. Follow Molly's process below as we work to transform her vision into a stunning reality.
Talk To Us About Your Idea:
Molly came into the store with a sapphire brooch she inherited from her grandmother. She loved the sapphires, but preferred them to be part of a ring, instead of a brooch. She had some basic design ideas but wanted to discuss what would look best. She was shown a myriad of options in materials, including adding other gemstones, or choosing yellow gold, white gold, platinum, or other precious metals. Molly soon settled on a design she liked best.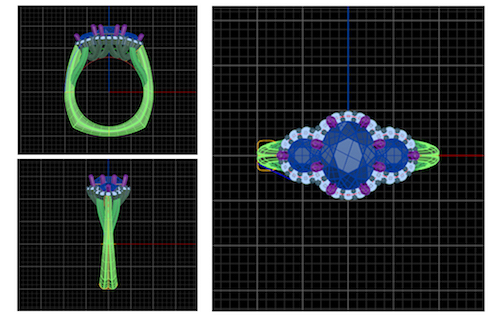 CAD Design:
Molly's design preference was taken to R.F. Moeller's in-house jewelry design specialist and within 14 days she was called in to see a three-dimensional image of her ring, using computer aided design technology. Looking at the image on the screen, she decided she liked the look of the sapphires, and the diamonds she'd chosen to add, but preferred a more sleek, less heavy, shank to go around her finger. These changes were passed along to Moeller's design team.
Model:
Two weeks later Molly stopped by the store to hold and inspect a plastic resin model of the ring, in it's actual size and shape. It was a final opportunity to see if it was to her liking, and it was. She was happy she'd gone with a modern design, though she'd toyed with the idea of giving it more of an antique look. Molly gave final approval for the design team to complete her ring.
Casting Finishing and Setting:
The molten metal was poured into the carefully prepared mold and, after it solidified, the ring was sanded and polished. The gems were then set in place, followed by more sanding and polishing. Her ring was now complete.
Pick Up:
Two weeks after holding and approving the plastic resin model, Molly came into the store to see her finished design and place it on her ring finger. She received a booklet as a memento, to go along with her ring. It detailed, in pictures, the process that went into her personalized design, from the day she walked in, until the day she picked it up.
Ready to get started on your custom design?
Our team of jewelers is eager to hear more about your vision for your custom jewelry piece. Get started by scheduling an appointment to meet with our team in person or contact us today!